Info from Britton and Rose
Reduced to synonymy under H. salicornioides f. cylindrica by Barthlott and Taylor Bradleya 13
Rhipsalis salicorniodes bambusoides Weber, Rev. Hort. 64: 429. 1892.
Hariota salicornioides bambusoides Schumann, Gesamtb. Kakteen 613. 1898.
Rhipsalis bambusoides Loefgren, Arch. Jard. Bot. Rio de Janeiro 2: 41. 1918.Stems becoming 2 meters high and stouter than those of H. salicornioides;
Joints clavate, 3 to 5 cm. long, 4 mm. in diameter at the top;
Flowers orange;
Sepals obtuse;
Petals usually erect but sometimes spreading.Type locality: Brazil.
Distribution: State of Rio de Janeiro, Brazil.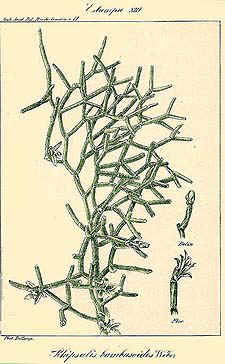 (Drawing:
H. bambusoides from Archivos do Jardim Botanical do Rio de Janeiro Vol II 1918)