Schlumbergera lutea subsp. bradei (Porto & A. Cast.) Calvente & Zappi, comb. nov. Mol Phyl & Evol 58: 456-468. 2011
= Hariota epiphylloides var. bradei Porto & A. Cast., Rodriguesia 5(14): 354. 1941. Hatiora epiphylloides subsp. bradei (Porto & A. Cast.) Barthlott & N.P. Taylor, syn. nov.
Hatiora epiphylloides ssp bradei (Campos-Porto & Werd.) F Buxbaum in Kakt. and. Sukk. 8: 116 (1957)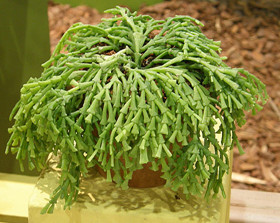 Body -. an epiphytic low shrub
Branches - shortly segmented, segments to 2.5 cm long. c. 1 cm broad, margins strongly notched
Areoles - . naked, minute
Flower - solitary apical. c. 1 cm long. Flowers do occur exceptionally on the margins, just as sometimes seen in Zygocactus

Distribution. - Brazil (NW Rio de Janeiro): Serra da Mantiqueira (Itatiaia), epilithic and epiphytic in montane cloud forest, c. 800-1600 -.m altitude.
Desc from Hunt 2006: Branch segments narrower than the type with fewer lateral areoles.
In terms of herbarium collections this taxon appears to be known only from the type, as cited above. It is represented in a few living collections, but survives and flowers only with difficulty and can be easily confused with forms of Schlumbergera russelliana when sterile. Its conservation status is cause for concern even though at least part of its habitat is included within a national park.
H. epiphylloides
subsp.
bradei
(Campos-Porto & Castellanos) Barthlott and N P Taylor in Bradleya 13 (1995)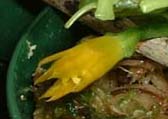 This specimen is in pure sphagnum moss (© KAF 2003). This flower is not fully open but the color is accurate -- a golden yellow.
DISTRIBUTION. Brazil (SW Rio de Janeiro, E Sao Paulo): Serra do Mar and Serra da Bocaina, epiphyte in Atlantic forest, at > 1000 m altitude.
This differs from the homotypic subspecies in its narrower stem-segments with fewer lateral areoles. Also belonging here is an extreme form with stem segments lacking lateral areoles, which deserves at least a cultivar name.