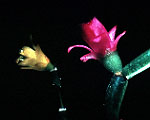 H. herminiae looks a lot like H. salicornoides and also grows upright but doesn't quite have the same little stems segments. What is unique about this species is its deep rose-pink flowers. The rose photo (35mm slide) was obtained by Ken Friedman from Barthlott in the late 1970s; it appears in The Illustrated Encyclopedia of Cacti by Clive Innes and Charles Glass. Innes & Glass say herminiae is best grown as a graft.
Body - forming erect shrubs, sometimes arching over.
Shoots - branching dichotomously or verticillately, cylindric, only slightly thickened above, matt dark green;
Areoles - . with 1-2 minute bristles.;
Flowers - mostly solitary, rarely paired, 2 cm long, to 2.5 cm, dark pink;
Fruit - olive-green, to 8 mm long;
Seed - chestnut-brown.
DISTRIBUTION. Brazil (S Minas Gerais?, E Sao Paulo): Serra da Mantiqueira, epiphyte on Araucaria in cloud forest, to 2000 m altitude.
Photos, top to bottom:
© Courtesy of W. Barthlott
© L. Scherens
© Marcelo A. K. Fontana, Brazil.
© K. Friedman
Below: H. herminea, 85-0652 Brussels BG ©KAF Like all the Rhipsalis and Hatiora at Brussels, this one was sun-reddened.