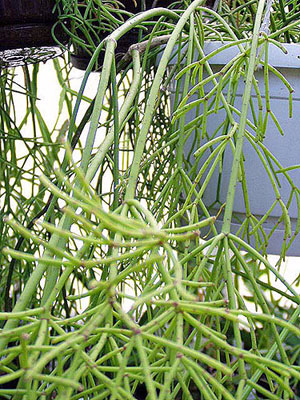 Plant - stems and branches very slender and weak, the main branches often much elongated, the branchlets short, spreading or drooping;
Flowers - numerous, scattered along sides of branches, cream-colored. rotate, 5 to 6 mm. broad;
Petals - few, sometimes only 5, short and obtuse;
Fruit - globose, naked, white or pinkish, 4 to 5 mm. in diameter;
Seeds - very numerous.
Type locality. Not cited. This form, which comes closest to that represented by Vellozo's type, has the most slender stem-segments and greenish-white flowers. It is an epiphyte characteristic of shady, perhumid forest habitats and, like other forms of R. teres, can be distinguished from similar forms of R. bacciferra by its perianth, which turns deep yellowish immediately post-anthesis.